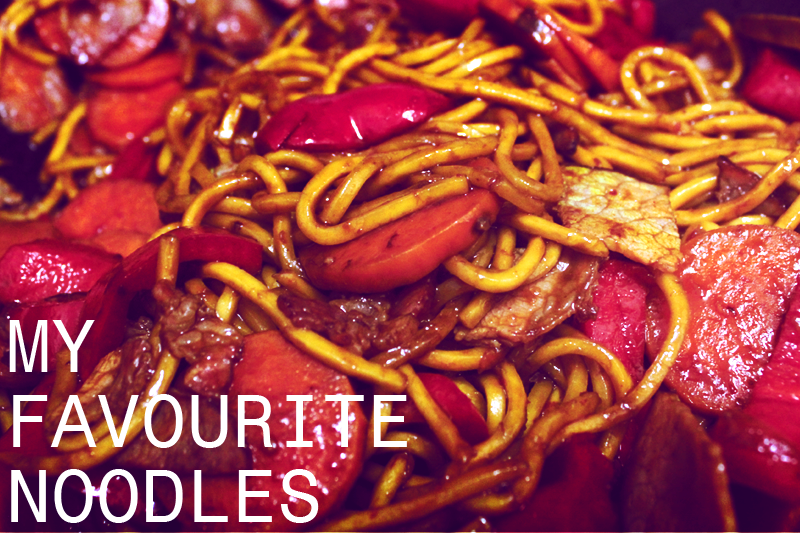 Over the past few months I've come to realise that I have a real "thing" for sweet/spicy combinations. This explains not only my love for chilli chocolate and spicy broad beans, but also for this recipe.
It's one which I perfected over my four years at university, I can't quite recall how I first came up the the combination for the sauce, but it's simply amazing. Just the right amount of sweet, just the right amount of savoury and just the right amount of spicy. Delish!
Ingredients:
1 small capsicum (red bell pepper)
1 small sweet potato (yam)
200g organic bacon
400g hokkien noodles
4 tbsp soy sauce
4 tbsp kecap manis (sweet soy)
1 tbsp sambal oelek
Directions:
Peel the sweet potato (yam) and either chop into thin slices, or cubes, depending on you preference. I prefer slices simply because they cook quicker, but there's definitely something  satisfying about biting into a big chunk or soft sweet potato!
Roughly chop your capsicum (bell pepper) and bacon, set aside.
Put a little oil in the bottom of a wok or large frying pan, add the sweet potato and cook over a medium heat until soft, until about two thirds cooked.
In a separate, smaller pan, start frying up your chopped bacon.
Add capsicum to the sweet potato, cook until slightly softened.
Place your noodles in a strainer and run under hot water to separate.
Add drained noodles, sauces and back to the wok, stir and cook over medium heat until noodles have softened and sweet potato is soft and delicious.
Pop it into a bowl and gobble it all up!
PS. how awesome is this cider label? And so yummy too!